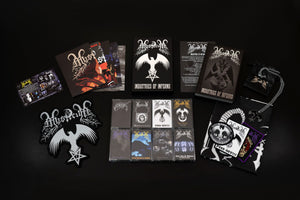 No Colours Records
Mysticum – Industries Of Inferno – 8-tape box
Regular price
€90.00EUR
€0.00EUR
Official 8-tape box from the masters and originators of Industrial Black Metal Mysticum. Housed in a luxurios matte black casewrapped box with silver hot foil stamped printing. This dangerous piece of metal is strictly limited to 750 handnumbered copies and includes:
Tape 1: Wintermass
Tape 2: Medusa's Tears
Tape 3: Piss Off!!!
Tape 4: Live At Grotten
Tape 5: Norwegian Madness (EPs)
Tape 6: In The Streams Of Inferno
Tape 7: Planet Satan
Tape 8: Never Stop The Madness: The Roadburn Inferno
Next to the 8 tapes, the box includes:
– massive hardcover-book (over 300 pages)
– pendant with chain
– 3 regular patches
– shaped backpatch
– flag
– 5 posters
– numbered certificate
All tapes in the regular box (112 – 750) are black.
---
More from this collection